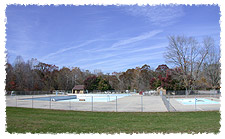 Brown County State Park is home to an Olympic-size swimming pool, plus a wading pool.
Also at the pool is a Snack Bar & Grill providing snacks and drinks, plus necessities like goggles and nose plugs.
Operation
The pool is open from 12noon to 7pm. (Hours subject to change.)
The pool is open the Saturday before Memorial Day through no later than Labor Day. Currently the pool closes in the middle of August.
The pool may be closed some weekdays near the end of summer when lifeguards are unavailable.
Fees
Rules
A lifeguard is on duty when the pool is open.
All infants, toddlers or small children who are not "potty trained" shall be required to wear an elasticized swim diaper before entering the pool area.
Fecal incidents may result in closure of the pool. These closures can last from several hours to 24 hours.
For children age 12 and under to enter the pool area they must be supervised by someone age 16 or older.
Notice: Swimming in Ogle Lake or Strahl Lake is prohibited.
Interested in other State Parks that might have swimming pools?
Check out this great info on Indiana State Parks from IndianaOutfitters.com.