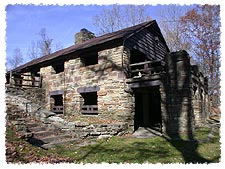 The Lower Shelter is the largest shelter house in Brown County State Park. It is a 2-story building with 2 rooms in the upper level (measuring a total of 53'x75') and one room in the lower level measuring 32x29'. Located near the north entrance to the Park, the swimming pool, Saddle Barn, tennis courts and a hiking trail are nearby.
The Lower Shelter contains drinking water, electricity, a modern restroom, a vault toilet, and a playground. Wheelchair accessible restrooms are available at the nearby Abe Martin Lodge.
Interested in other places to picnic or reserve shelters in Indiana?
Check out this great info on Indiana State Parks from IndianaOutfitters.com.