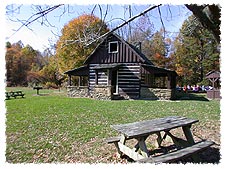 Hoosier's Nest Shelter resembles a small cabin. It has open windows and doors, a small second floor room, and front and back porches. This shelter seats 30 people and has 15 parking spaces.
Hoosier's Nest Shelter is located near a very large open playing field, the Park Office and Fire Tower. It is in a very high traffic area. This shelter contains a vault toilet and drinking water. Modern wheelchair accessible restrooms are very closeby, and the Camp Store is just 1.1 miles down the road.
Interested in other places to picnic or reserve shelters in Indiana?
Check out this great info on Indiana State Parks from IndianaOutfitters.com.