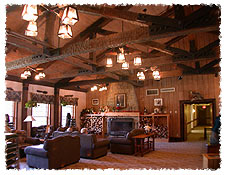 Abe Martin Lodge and the original cabins were built in 1932 of hand-hewn native stone and oak timbers that were cut in the park. Open all year long, the Main Lodge has two large lobbies with two fireplaces, a rustic public dining room, 30 lodge rooms, and 6 patio rooms. Another 54 rooms are located in the new addition. Each bedroom contains one king or two queen beds and a bathroom.
History of the Inn
Abe Martin has become a favorite son of Brown County and of the State Park. The Abe Martin Lodge commemorates his connection with the county.
For twenty-five years, from 1905-1930, "Abe Martin" was the mouthpiece for Kin Hubbard's daily quips in The Indianapolis News, which, accompanied by sketches of Abe and his friends in action, were syndicated across the nation. Born in Bellefontaine, Ohio, then settled in Indianapolis, Hubbard started the Abe Martin character in 1904. At first Abe Martin belonged to no particular locality, but on February 3, 1905, he announced, "I'm goin' ter move ter Brown County Tewmorrow," and the next day he was depicted in a wagon piled high with household goods.
His comment was, "By cracky, it's sum travelin' ter git ter Brown County." The reason for the move lay in the fact that the steep hills and the general "picturesque-ness" of that area lent themselves to humorous exaggeration and provided the material Hubbard liked for his pictorial backgrounds.
Gradually many of Abe's neighbors came into being, to appear in the pictures and text. The cottages of the Abe Martin Lodge in the Park bear the names of these characters.
Much of Hubbard's humor is as timely now as it was during its heyday, from 1905 to 1930. Will Rogers called Kin Hubbard "America's greatest humorist."
Hubbard's cartoons played a significant part in drawing the attention of artists and tourists to Brown County. They, in turn, have made the area world famous. In dedication to his memory, the Department of Natural Resources built Abe Martin Lodge in 1932 on Kin Hubbard Ridge, naming the cottages after his principle characters.